HIP ARTHRITIS WITH OR WITHOUT BACK PAIN
Whilst there are many reasons for hip pain, Osteo-arthritis of the hip joint is one of the most common. Affecting mainly older people, 25% of women and 15% of men over 60 years of age will experience symptoms. Previous injury or disease of the joint predisposes to the development of osteo-arthritis and it is made more likely by factors such as a family history or obesity. Often however it can be just part of the process of getting older.
What symptoms should I look for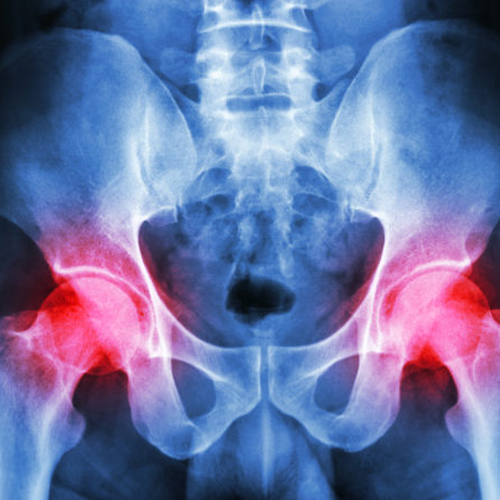 Whilst very variable, simple stiffness and discomfort in the groin, buttock or thigh are often the first signs.  This because of the mechanical compensations in the body, back pain may develop.  Later this can intensify and radiate into the buttock, outside or front of the thigh, to the knee which is often the first indication that trouble is developing.  This is identified by a chiropractor hip pain specialist and known as referred pain and can follow distinct patterns.
Difficulty walking running or balancing are typical problems and often standing on one leg e.g. to dress, becomes more difficult.  These symptoms are often worse when the air pressure is low e.g. in winter, especially when it is raining.  Sitting on a chair with one leg crossed over the other may become difficult or uncomfortable. Osteo-arthritis typically affects the joint on one side of the body at one time which is distinct from Rheumatoid Arthritis, which usually affects both sides simultaneously.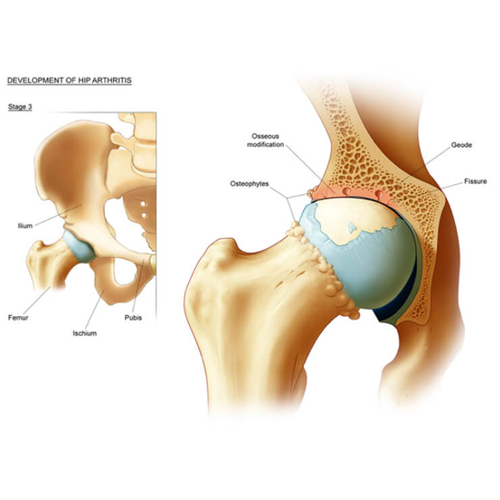 What is actually happening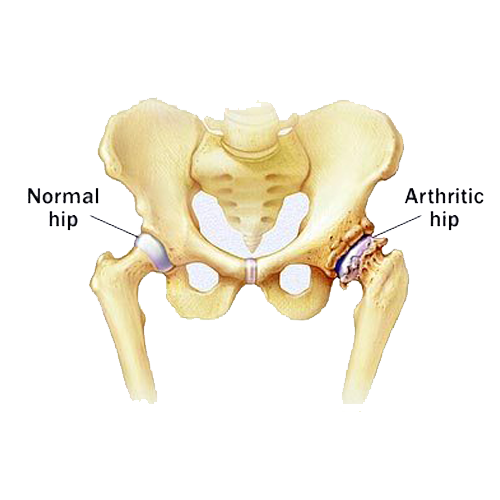 The hip joint becomes inflamed
Primarily the cartilage cushioning of the hip joint wears down and this causes a local inflammatory response eventually leading to the development of bony spurs (osteophytes) as the body attempts to stabilise the joint. With less cushioning, the bone substance thickens at the edges (sclerosis) often with the development weak areas within the bone known as subchondral cysts. These manifestations are clearly visible on an x-ray although often clinical examination is often sufficient for diagnosis.
The muscles which move the hip joint then become hypertonic (tense) and therefore weak.  This frequently manifests itself as pain in the pelvis or back pain.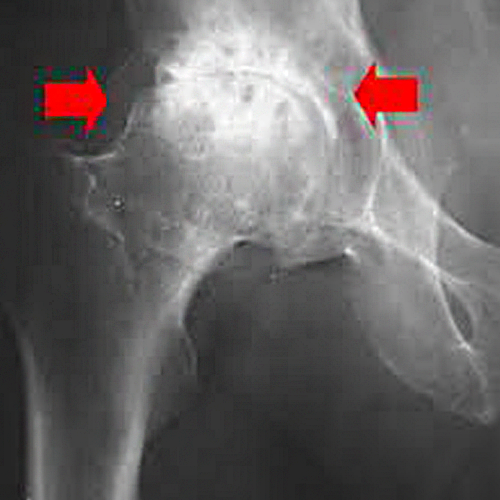 The hip joint becomes inflamed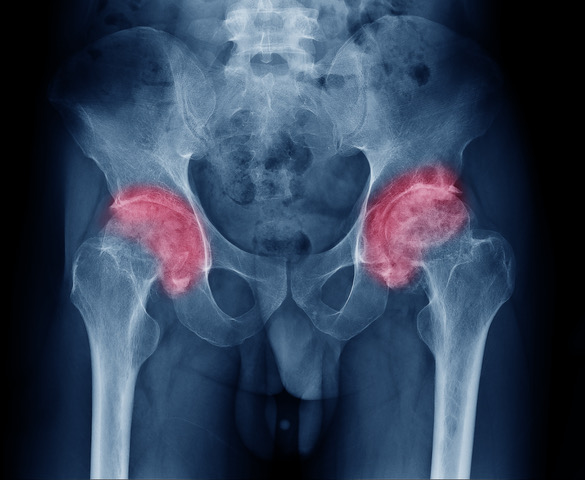 X-ray of Hip Arthritis
The mechanical compensations for this hip dysfunction can affect the pelvis, low back, knee or ankle.  These compensations can lead to increased muscle tension, spasm or muscle weakness giving rise to the pain in the thigh, groin or buttock.